Woman who accused Bob Dylan of sexual abuse in 1965 drops trial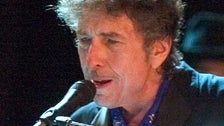 A woman who accuses Bob Dylan of abuse her sexually in 1965, when she was 12, she dropped her lawsuit amid allegations that she had destroyed key evidence.
But the woman dropped her lawsuit on Thursday, a day after Dylan's lawyers told the court she had still not produced "dozens of critical emails that we know exist", even after being threatened with sanctions, according to Billboard.
Those emails reportedly included discussions casting doubt on his claims. Dylan's lead attorney, Orin Snyder, also told the judge there was reason to believe the accuser destroyed the posts in question, which Billboard pointed to as "a massive violation of litigation rules in all cases".
Early reports of the trial were met with skepticism by at least one Dylan scholar.
"This case is over. It is outrageous that it was ever brought in the first place," Snyder said in a statement, calling the case an "attorney-directed deception."
HuffPost contacted the accuser's attorneys, who did not immediately respond.