Triple Fan Flagship GPUs: Aorus Geforce RTX 4090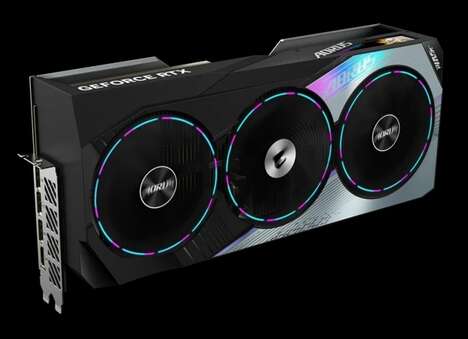 Shortly after NVIDIA unveiled the RTX 4090 graphics processing unit (GPU), Gigabyte released details of its upcoming flagship GPU, the "Aorus GeForce RTX 4090 Master". It's a massive four-slot card with three 102mm RGB fans. The card measures 358 x 162 x 75mm, making it the largest GPU to reach the mainstream market to date. In order to compensate for the size and weight of the card, Gigabyte ships an "anti-sag bracket" with the device to support the weight and prevent damage to the PCI-E motherboard slot.
The Aorus 3090 requires four 6+2 power adapters, which means the GPU can hypothetically draw up to 600W from the PCI-E slot and 75W from the motherboard. Accordingly, Gigabyte recommends a power supply of at least 1000W to safely operate this card. The card, however, has 16,384 CUDA cores and 24GB of GDDR6 memory, which means it will run incredibly fast in games, video editing, and rendering. Gigabyte has yet to reveal the card's clock speed or price.
Image Credit: gigabyte