Trevor Noah names 1 thing 'all parties' can agree on after Queen Elizabeth's death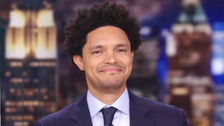 Trevor Noah believes there is one thing that everyone, monarchist or not, can agree on about the British Royal Family.
"Two weeks ago, as you all know, queen elizabeth died of being old, and it's been a crazy two weeks since," the host of "The Daily Show" said Monday. "Lots of heated debate on all sides."
He then listed some of the arguments: "'He was an icon', 'He was a tyrant', 'Preserve the monarchy', 'Get rid of the monarchy', 'We hate Charles', 'We hate Charles too Charles.' "
King Charles ascended the throne on the death of his mother on September 1. 8, making him the oldest person to ever come to the British throne. However, the 73-year-old royal is rather unpopularin part because of his controversial past and his infidelity in his marriage to Princess Diana.
Watch more below on "The Daily Show":