Taliban say they didn't know al-Qaeda leader lived in Kabul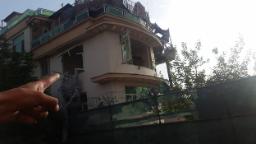 CNN
—

The Taliban claimed they were unaware of this Al-Qaeda leader Ayman al-Zawahiri resided in the Afghan capital of Kabul where the United States said he was killed in drone strike during the weekend.
"The Islamic Emirate of Afghanistan has no information about Ayman al-Zawahiri's arrival and stay in Kabul," the Taliban said in a statement on Thursday.
"The leadership of the Islamic Emirate of Afghanistan has instructed investigative and intelligence agencies to carry out a thorough and serious investigation into the various aspects of the incident," the Taliban added.
US President Joe Biden announced on Monday that Zawahiri was killed early Sunday by a US drone strike on a house in Kabul where he was residing.
A senior US administration official said senior Taliban figures in the Haqqani network were aware of the al-Qaeda leader's presence in the area and even took steps to conceal his presence after the strike, restricting the access to the safe house and quickly relocating his family members, including his daughter and children.
The house al-Zawahiri was hiding in is in the Sherpur area of ​​the Green Zone, where most of the former Afghan government officials lived.
The Sherpur district was once the site of a former military base, but during the years of civil conflict and Taliban rule in the 1990s, it remained almost unused.
In 2003, the Afghan Ministry of Defense abandoned it and the government divided it into more than 50 plots, allocating them to powerful people, including government ministers and other senior officials, as well as lords of war and drug lords. Their homes were quickly dubbed "poppy palaces."
After the fall of the Ashraf Ghani government in August 2021, the majority of Sherpur house owners fled the country and their houses were confiscated by the Taliban.