September 15, 2022 Russia-Ukraine News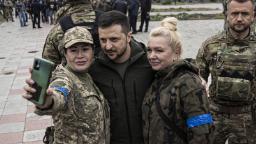 Pope Francis said on Thursday it might be morally acceptable to sell weapons to Ukraine if they were used in self-defense.
"Defending yourself is not only legitimate, it is also an expression of love for your country," Francis told an inflight news conference on the plane returning from Kazakhstan.
Asked by a journalist if it was right to sell arms to Ukraine, the pope replied: "It is a political decision. It could be morally acceptable if it was done morally.
"It's immoral if it's done with the intention of causing more war, or selling weapons, or getting rid of weapons that are no longer needed," Francis said.
"Morality is defined by motivation," the Pope said.
In response to a question about Russian aggression in Ukraine, the pope said dialogue is important, "even if it means holding your nose."
"I do not exclude dialogue with any power at war," the pope said, "even if it is the aggressor."
"It can smell, but it has to be done," Francis said.