Pat Sajak Gets 'Wheel' Backlash For Photo With Marjorie Taylor Greene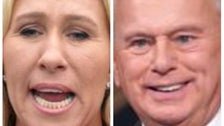 There "Wheel of Fortune" smiling host with the far-right representative. Marjorie Taylor Greene (R-Ga.) in a photo that recently emerged on the internet is drawing backlash against the game show host for the business he's been keeping.
In the image, Sajak poses between Greene and Right Side Broadcasting Network reporter Brian Glenn. Patriot Takes shared the photo on Saturday, although the watchdog of far-right political activity did not provide context. However, Glenn shared the image at the end of August and then wrote that the meeting took place at dinner the night before.
Of course, the internet has added its own context.
"Are all game show hosts garbage?" Hill asked.
Here are some other takes. Greene spoke at a white nationalist conference in February, sparking a bit of a theme in many tweets. One person even called Greene "Vanna White Supremacist," a play on the name of Sajak's longtime letter revealer on the phrase and word guessing show.
Representatives for Greene and Sajak did not immediately respond to requests for comment from HuffPost.