Legacy Hot Dog Items: Whistle Dog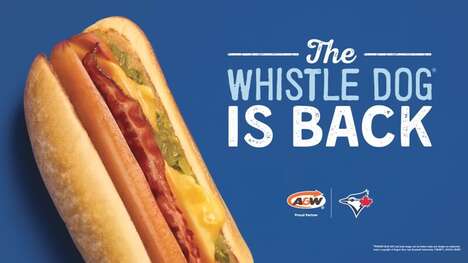 A&W has announced the return of one of its most iconic hot dog offerings, the "Whistle Dog". This item left the A&W menu in 2017 after being a fan favorite for many years. Since then, customers have consistently requested the return of the item on social media, in-store and through other contact methods. The item is now back on the restaurant menu on July 25, 2022, for a limited time.
In addition to bringing back the Whistle Dog, which is a large hot dog with bacon stuffed inside that is then topped with various condiments, A&W announced a documentary miniseries to celebrate the article. This documentary is called "Bring Back the Whistle Dog" and will cover in-depth information on the importance of the cult hot dog. This documentary will be uploaded to A&W's YouTube channel on August 12, 2022.
Image credit: A&W