Documentary about Dustin Lance Black will premiere at NewFest in New York this fall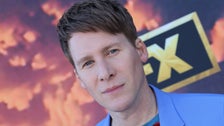 To his fans, Dustin Lance Black is an Oscar-winning screenwriter and one of Hollywood's most prolific queer talents. Behind the scenes, he's also Olympian's loving husband Tom Daley and a doting father to their son, Robert Ray.
This fall, the "Milk" writer will delve into his Mormon upbringing as well as his current private and professional life for a new documentary. "Mama's Boy", adapted from Black's Memoirs 2019 of the same name, will have its world premiere on October 11. 13 in frame by NewFestNew York's annual LGBTQ film festival.
"For a gay little boy growing up in Texas, it was about as stacked as it gets, I'll tell you," Black told NPR in 2019. "I liked the security of faith, even, but it also meant that I had a lot of words, derogatory words to define being gay, around the age of 6. I knew that with the people I loved and appreciated the most, I was a sinner, and a criminal, and maybe even mentally ill…and that's a lot to bear for a little 6 year old.
Directed by Laurent Bouzereau, "Mama's Boy" is just one of many highlights on the NewFest 2022 slate. The eight-day festival is held in a hybrid format and will feature more than 130 films from 23 countries.
Watch the trailer for "My Policeman" below.
by Todd FlahertyChrissy Judy", a favorite of the Provincetown Film Festival 2022, will also be screened, while filmmaker Elegance Bratton will receive the Breakthrough Queer Visionary Award for his acclaimed military drama "inspection."
NewFest ends in October. 23 with "All the beauty and bloodsheddocumentary by filmmaker Laura Poitras about world-renowned artist and activist Nan Goldin.