Danielle Brooks says it's 'constantly a struggle' to come to terms with her post-baby body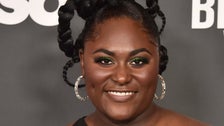 Danielle Brooks says it's "constantly a struggle" to accept her body after giving birth – but she's working on acceptance.
"It's something that I had to deal with mentally: it's good to have changed", the "Orange is the new black"said the star in an interview with Shape Magazine, published last week. Brooks and her husband, Dennis Gelin, welcomed a girl named Freeya in November 2019.
"I created a whole human being, and that should be celebrated, and my body took a beating," the actor added. "It's constantly a struggle…but I'm learning to accept the new me, and he's still a beautiful human being, and he's still a sexy human being."
Brooks also shared her two cents on societal pressures for women to come back after having babies.
"We put a lot of pressure on women to come back, but there's so much that comes with being pregnant and also giving birth," Brooks said.
The 'The Color Purple' star had an emergency C-section, which she described as "major surgery that people sometimes take very lightly."
She also spoke about the pressures of being in the public eye, admitting that celebrities are usually rewarded for bouncing back after having a baby.
"That's great, but I also think we need to celebrate the kissing woman where she is, which might not be a rebound," the 32-year-old added.
"When I got pregnant I had to reimagine my relationship with my body with this creature inside of me taking over. I was gaining weight so quickly," Graham, now a mom of three, said in an interview for Elle Magazine August 2020 publish. "Then to get stretch marks on my stomach, it was like, 'Oh, my God. I can't believe this happened.
She went on to describe the experience as a life-changing event worth celebrating.
"At first it was devastating," Graham added, "and then when I met [my first son] Isaac, I said, 'No, that's exactly what all the women have been talking about for ages. It's not just a battle injury. It's something that changed my life forever, and I'm going to celebrate my new body.'"